This past week on March 14th, we paid tribute to S. Truett Cathy on his birthday. I was fortunate to get to meet and spend time with Truett on several occassions.  The most memorable was one Saturday afternoon when Kurt Davis, fellow Operator, called me and asked if my dad and I wanted to ride Harleys down to Truett's house and hang out with him on his farm.  We spent several hours that day walking through his barns with him looking at his cars, sitting on his back porch while he signed books, and hearing stories.  I will never forget that day!
Truett's life was an inspiration to so many and his legacy will continue to inspire for generations to come.  His legacy was built upon the enduring belief that "A good name is rather to be chosen than great riches."  Recently I took a group to the Chick-fil-A Support Center and while on a tour I noticed a plaque I had not seen before, listing "The S. Truett Cathy Legacy Principles." Truett's life was the embodyment of these six principles:
Be a good steward; Build long-term relationships; Provide hospitality; Take personal responsiblity; Choose personal influence over position power; and Have fun.  
I am so thankful for the opportunity I have to make a difference in my community and the lives of my team members because of Truett.  I often say: "When I'm 85 years old sitting in a rocking chair, I'm not going to be thinking about how much money is in my bank account…because my kids will have probably spent all of that, or how big my house is…because I will probably be living in a nursing home…nor will I be thinking about what kind of car I drive…because I probably won't have a license…I'm pretty sure I will be thinking about…'What I did with the time, money, and rescources I was given to make a difference in people's lives'…because that is what really matters!" I truly believe that if I strive to embody the S. Truett Cathy Legacy Principles, I will look back and have no regrets!  I challenge you to take some time away, unplug for a few hours and ask these questions:
What principles do I embody today?  Do they reflect how I want to be remembered?  What will people say about me when I'm gone?  What do I want people to say about me when I'm gone? What do I need to change today to have the legacy I want to leave?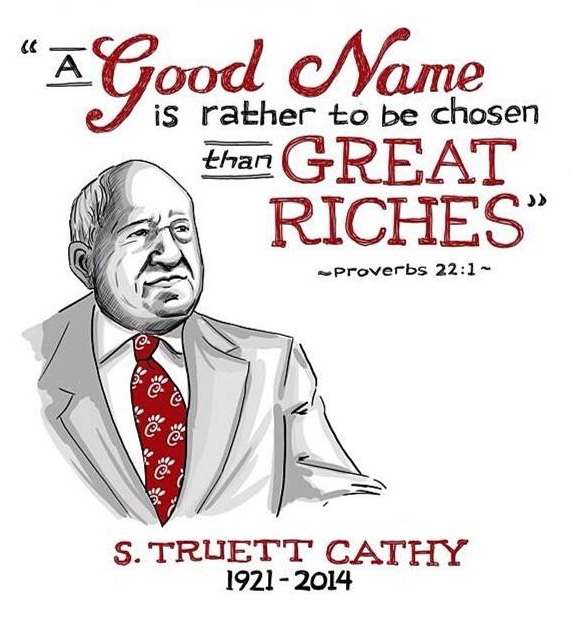 Prior to Opening Chick-fil-A Rockmart, our leadership team spent one afternoon writing scripture on the walls of the restaurant.  I chose to write Truett's life verse Proverbs 22:1, which has now become my life verse, on the frame of the main entryway.