Zach Thomas is an entrepreneur, published author, business/life coach, public speaker and most importantly, follower of Christ, husband, and father of seven children.
, , and , , and , ssssHe was Eagle Scout of the Nation in 1995, graduated from the United States Military Academy at West Point and served his country as an Airborne Ranger Infantry Officer. He has started multiple companies and been featured in Newsweek Magazine and on Good Morning America. He married his high school sweetheart and they homeschool their seven children on their family farm where he grew up. His varied interests include studying leadership and entrepreneurship, farming, Brazilian Jiu-Jitsu, riding his Harley, working on old cars with his sons and dad, camping and spending time with his family.
He is the Owner/Operator of a Chick-fil-A franchise in Rockmart, Georgia where he is very involved in his community. Zach is a graduate of Lead Polk and served as a member of the board of directors for the Polk County Chamber of Commerce.  He currently serves on Georgia's 14th Congressional District's Service Academy Selection Board, the R3 Atlanta Market Board for Chick-fil-A and the LifeShape advisory team.  
Additionally, he serves as the President of the board of Life Impact, Inc., a non-profit ministry, where he volunteers his time to disciple men and lead Wild at Heart BASIC retreats.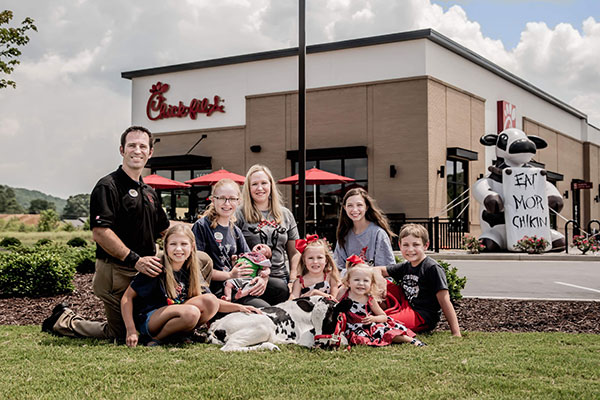 Zach accepts a limited number of speaking engagements each year and speaks on the topics of leadership, lean, and entrepreneurship. As a self-proclaimed Lean6Ninja and lean evangelist, he serves on the Lean Operator panel for Chick-fil-A, Inc. and is a co-creator for the Lean365 program. Submit your speaking request here. Having served as a life coach and executive coach prior to Chick-fil-A and an Operator Coach for new franchisees for Chick-fil-A, Inc., he accepts a limited number of coaching clients outside of Chick-fil-A.  If you are interested in hiring Zach as your coach, find out more here.
Follow Zach's leadership blog at leaderfarming.com and subscribe to take a free quiz to determine your natural leadership style. Follow his personal blog at JiuJitsuwithJesus.com where he writes about his faith. 
"As a lifelong student of leadership and entrepreneurship, I consider my Chick-fil-A franchise with over 90 team members a laboratory for innovation and cultivating next generation leaders. My company, Locum Restitution LLC, Latin for "a place of restoration" is a leadership development company that just happens to sell chicken!"