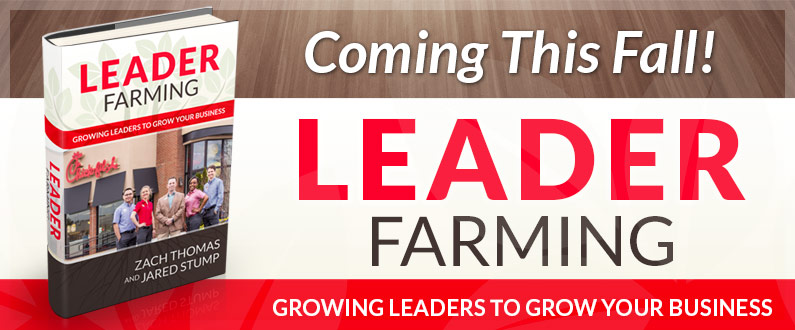 In the first few years of figuring out how to lead my business, two life-altering events took place back-to-back. The first one nearly took my life, when a car hit me while I was walking across Windy Hill Road.  The second nearly took the life of my wife, when she ended up hospitalized with postpartum eclampsia (extremely high blood pressure). These incidents served as catalysts that led me to spend a lot of time reflecting on life and leadership. One morning, after eating breakfast at the hospital where my wife was staying, I sketched the first draft of what I now call Freedom Leading, which is part of the Leader Farming strategy—on a napkin from the cafeteria!
I returned to the restaurant and began implementing this new strategy, which led to an increase in sales and a significant reduction in turnover. I didn't expect this to be something I shared with others; it was just a new way to lead my business—and it worked.
I was on my tractor one day, preparing to plow a field and cultivate a crop when it hit me—this is what I'm doing at my restaurant, which is why I call myself a Leader Farmer. As a mentor, I'm able to come alongside one of my team members and say, "I've been here; I've done this—let me help you grow and become the best version of yourself."
I began to share bits and pieces of Leader Farming with other Chick-fil-A operators, corporate staff members, and business leaders in the community. Several folks at Chick-fil-A corporate—including fellow author David Salyers—encouraged me to write this book because they believed other operators and business leaders needed to hear this message and proven approach to real-world leadership of Millennials and Centennials. I began blogging, but didn't see myself as an author.  However, I'm very excited that the book will be published soon.  On Thursday, July 20th, we will be selling a special edition copy of the book at the Chick-fil-A at Macland Crossing.  We will also be selling them all weekend at the Homespun Festival in Rockmart (Friday July 21 & Saturday July 22, 2017).