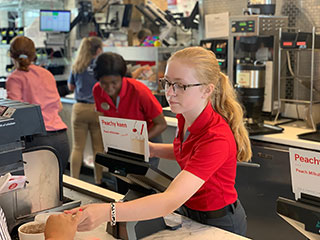 My oldest daughter, Louci, recently started her first job working for me at Chick-fil-A Rockmart. This has been a dream come true and was one of the reasons why I chose to re-locate from Chick-fil-A Macland Crossing (over an hour away from my home in Polk County) to Rockmart: so my kids could work at my store. Some may call this nepotism, but I direct my leadership team to treat Louci the same as they would anyone else—and I'm okay if they are a bit tougher on her. There are some very specific reasons why I want my daughter to work at Chick-fil-A, having seen the positive impact this job has made in the lives of teens since she was a toddler.
Proverbs 22:6 instructs parents to "train up their children in the way they should go." To me, this doesn't mean planning out every detail of my kids' lives, but starting them off moving in the right direction. I want my daughter to work at Chick-fil-A because I know it will challenge her, grow her, and bring out the best in her. It's not a job where teenagers can stand around on their phones or half-heartedly serve guests. It's certainly not a job "just for the paycheck" but a perfect fit for those who are passionate about serving others. But they may not all start out that way. For some, a job at Chick-fil-A may be "just a job" at first. However, I believe that it will form and shape young people in ways that will greatly benefit them in their future careers for years to come—whether they choose to stay with Chick-fil-A or pursue something completely different.
I have had Team Members go on to become bankers, realtors, graphic designers, EMT's, and more. I've had others start their own businesses, or work in manufacturing. Some have chosen to serve our country in the military. And four have gone on to become owner/operators of their own Chick-fil-A restaurants, with more in the "pipeline" to become the leaders of tomorrow. I know that regardless of the path she chooses, the skills my daughter develops at Chick-fil-A will last a lifetime. I'm not just talking about learning how to serve chicken. I believe a job as a Chick-fil-A Team Member teaches teens and young adults to be highly productive, resilient, life-long learners with healthy work ethics and world-class customer service skills. Beyond just the marketplace, learning how to treat everyone with honor, dignity, and respect will benefit my daughter in every area of her life. It will make her a better student, friend, sister and more.
Developing these traits is becoming more and more important in our modern world, with fewer and fewer young people developing resilience and becoming productive adults naturally. A 2018 BlueCross BlueShield study found that major depression rose 33 percent from 2013-2018. The rates are even higher among millennials (up 47 percent) and centennials (up 47 percent for boys and 65 percent for girls). At the same time, the EPA estimates that only 7 percent of a modern American's life is spent outdoors. We are getting to the point where our young adults actually need to work at Chick-fil-A because it will force them to get outside when they take orders in the drive-thru!
Parents today are truly navigating uncharted territory. As a father of 7, find myself here as well. I haven't figured everything out, but being aware of this I've learned to pray for wisdom and revelation on how to parent my kids. I recognize it will take intentional effort to help teach them how to live in the modern world. I don't just want them to survive; I want them to thrive—and that's why I want my daughter to begin her career working at Chick-fil-A.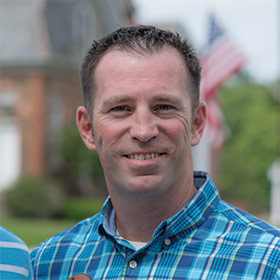 Zach is currently working on writing a new book entitled Pioneer Parenting: A Guide for Raising Kids in Uncharted Territory with fellow dad, Ben Cope, and author/researcher Jared Stump. You can download a free preview chapter at www.pioneerparenting.org/about.