A few weeks ago we were traveling to south Georgia to be with family because my grandmother passed away.  On the way to Donalsonville, we stopped several times along the way, which is about four and a half hours from where we live (but took us about 6 hours with 6 kids!).  Whenever we travel and stop at other businesses, I'm always analyzing.  I'm sure it drives Christi crazy because I can't "turn it off."  Our first stop was in Carrollton at a gas station, we were less than an 30 minutes down the road, Lottie (our new born) was screaming and some of the kids had to use the restroom.
I decided to get gas while we were stopped and I noticed something I have never seen before at a gas station.  There was an employee outside cleaning the pumps and literally shining the metal on the sides.  I watched in amazement as the employee seemed to be taking pride in what he was doing.  After the girls got back from the restroom and I decided to go inside.
Everything inside was amazingly clean and organized.  I was so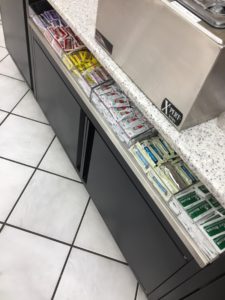 impressed with the condiment bar I had to stop and take a picture.  Being a Chick-fil-A franchisee, I'm not easily impressed by other companies, especially gas stations, we set the bar pretty high.  However, at this particular gas station, I was impressed with the level of excellence.  Excellence is in the details!
As we travelled on down the road, about 45 minutes out from Donalsonville, my kids were "starving!"  Nevermind the fact that my aunt owns the best restaurant in Donalsonville, Jo's Family Restaurant, we "had" to stop.  We were in Cuthbert…in case you are wondering…there is almost nothing in Cuthbert.  I asked Christi to get on her phone to see if she could find a place to eat.  After looking at a few
reviews, we decided on Patterson's Restaurant.   I must say it was a good choice, the food was excellent and the hospitality was genuine.
I recently attended some training with one of my leaders on hospitality, so I've been thinking about that word a lot lately.  Every table in the room had a different quote about hospitality.  Coincidentally, our table had the following:
"Hospitality is embracing a posture of the heart to welcome.  A life of invitation begins in the soil of a heart cultivated by love."  ~ Logan Wolfram
As a Leader Farmer, I loved this quote, "A life of invitation begins in the soil of a heart cultivated by love."  Genuine hospitality cannot be faked, it starts in the heart and exudes from our words and actions.
This particular weekend, having been asked to do my Granny's
eulogy, I was searching for words to say when I was reading an article that was written about her recently.   In this newspaper article, my aunt Jo said "we treat all of our employees and customers like members of the family."  It hit me in that moment that my desire to treat my team members and customers like family was somewhat inherited and this will be the legacy of my Granny in my life.
Almost 9 years ago, when I first became a restauranteur, I had several conversations with friends and other relatives that discouraged me from this approach.  Many said "you can't trust your employees," "business is business," and "your employees can't be your friends, much less family."  I decided that I didn't care what they thought and I was going to make the most important core value of my organization to TREAT EVERYONE WITH HONOR, DIGNITY AND RESPECT and ultimately treat them like family.
As the saying goes, "Hire for attitude, train for skill."  If you want excellence and hospitality in your organization, look for what's in the heart, I think both excellence and hospitality grow from the soil of the heart.