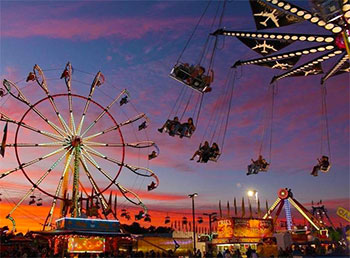 Throughout my entire life, I have been taught to treat people with honor, dignity, respect. From my time as an Eagle Scout, to serving active duty in the U.S. Army for six and a half years, to my time in ministry, and the ten years I have been a Chick-fil-A operator, I have made it my aim to treat everyone I encounter in this manner, regardless of their title or position. I haven't always done it well—especially when I was a Ranger instructor and thought my job was to make people cry for their mother—but it is a core value that I have built my life around.
Shortly after I began my journey with Chick-fil-A at Macland Crossing, I discovered that several local businesses served as food vendors at the North Georgia State Fair, which was nearby. Thinking this would be a good opportunity, I stopped by their office one day to inquire about the process.
The first person to greet me when I walked through the door was an older woman, seated behind the receptionist's desk. I told her I was a Chick-fil-A operator and wanted to be a vendor at the fair. I thought this would be an easy sell since Chick-fil-A is so popular in the Atlanta market. As it turned out, she informed me that there was a seven-year waiting list. I told her I understood and thanked her for her time.
Then, I decided to go the Second Mile. Lunch time was approaching, so I asked her if she had eaten yet. She told me she had not, so I offered to bring lunch to her and everyone else in the office at no charge. Her face lit up, and I quickly hurried back to the restaurant to pick up the food.
Within the hour, I returned to the office with lunch for the entire team. I didn't do this because I thought it would help me get into the fair sooner than seven years; I just wanted to go above and beyond to serve my community and treat others better than I would want to be treated. As I was doing this, I realized that I could have taken the opportunity to leave my business card and a note for Todd, the owner of the company, telling him I had just fed his entire team and to "keep me in mind" if a spot opened up for another food vendor. However, I did not want to manipulate my way under the guise of a free gift. If I had done this, I would have been serving others for my own, selfish gain, which is the opposite of treating others with honor, dignity, and respect.
In spite of my efforts to fly under the radar, it wasn't long before I received a call from Todd. He thanked me for feeding his team and then said, "There's a seven-year waiting list for food vendors, but I can get you in as a sponsor now."
Stunned, I returned to the office to close the deal. When I arrived, Todd was talking with the receptionist. "Hey, Zach!" he said. "I want you to meet my mom."
The older woman winked at me and said, "I had a little talk with my son."
This is a moment I will never forget. I recognize that I would not have had this opportunity if I would have viewed her as merely "the woman answering the phone." This experience, among others, has taught me to never, ever burn bridges when it comes to relationships. Always treat everyone you encounter with honor, dignity, and respect and go the Second Mile. You never know when it will come back around!
Don't serve others because you think you will benefit or profit from it. This may be a natural by-product, but most people can see through ulterior motives from a mile away. Instead, make a decision that this is the kind of person you want to be—that this is who you want to be remembered as—and your actions will naturally follow the decision you have made.