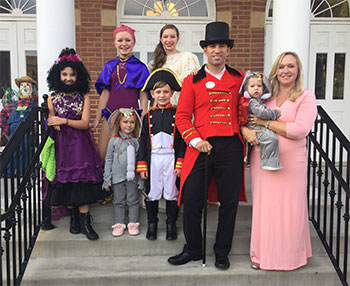 One of our favorite movies right now is The Greatest Showman. So, naturally, my family decided to dress up as the cast for Halloween this year. I love a good story, especially one with a positive message of redemption.
In the film, P.T. Barnum (played by Hugh Jackman) loses his job and decides to start his own business. After deceiving a bank into giving him a loan, he buys a wax museum in New York City. Sales are slow, so his children suggest that he showcase something more "alive." Barnum goes on to assemble a cast of "freaks" and attract a large audience, prompting him to re-name the museum "Barnum's Circus."
Barnum sees his performers as more than just a "freak show." He not only treats them with honor, dignity, and respect; he treats them as if they were part of his own family. He gives them a place to belong and allows them to shine when everyone else rejects them and pushes them aside. Things go well for awhile, but as Barnum's success continues to grow—thanks to the talented singer Jenny Lind—he strays from his original mission. He lets the success go to his head and ends up turning his back on the very people who helped him get there. Before long, Barnum's world comes crashing down and he loses everything, both his home and his business. Here, he remembers that what truly matters in life is people. Not just "important" people, but every person.
From here, things turn around and everyone lives "happily ever after," but I want to highlight something important. In P.T. Barnum's life: he moves in and out of treating others well and operating with questionable motives. In the beginning, he treats his performers with honor, dignity, and respect, but when he no longer "needs" them he pushes them aside. However, unlike so many real-life stories we see today, he ends up re-connecting with his core values and becomes the person he used to be. It reminds me of the well-known quote from George Eliot, "It's never too late to be what you might have been."
Where do you find yourself? In the process of leading your business, have you gotten off track from your original core values you were committed to live by? Or did you ever have any values to begin with?
No matter where you find yourself at this moment, it's never too late to change your course. It's never too late to be what you might have been. Don't wait until you're 80-years-old, sitting on your front porch or in a nursing home, to look back and realize you wish you had treated people differently. Ask yourself the tough questions, such as, "Who do other people say I am?" and "How do I want to be remembered?"
If who you are today is not consistent with the person you want to be, know that it's not too late to turn the story around and have your own moment of redemption!